I've been back from Vancouver for about a week now, and I wish my stay there would have been longer! Knowing I'll be back a year from now for the Olympics is pretty exciting, though. The city certainly has Olympic Fever, and being at the test event for figure skating only amplified that. Team Canada certainly showed they're a force to be reckoned with, winning three silvers and one gold medal. I've never been to an event quite like the ladies' long program, though. Yu Na Kim is like a rockstar in her native Korea, and there were so many people there cheering her on that it really electrified the atmosphere in the arena. My friends and I pride ourselves on our cheering skills, but even we haven't matched the volume of that crowd. Knowing what skating has gone through in North America, combined with the tough economic times everyone is going through, it was exciting to see so many people attending a skating event.
My friends and I did our fair share of sightseeing, in addition to spending hours on end roaming the PNE. I don't think I could ever get tired of being around mountains and water, and Vancouver seems to posess an open, laid back vibe that I think is missing in a lot of big cities. I am by no means a photographer, and my pictures are taken on a little Kodak digital point and shoot, but I did get some shots that I liked.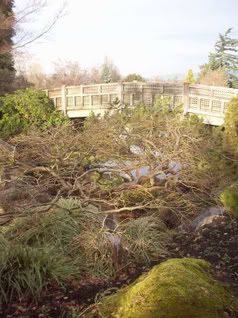 This is a shot from Queen Elizabeth Gardens, which was down the street from the friend's house where we stayed for a few days. Thanks again, Meg and Augie!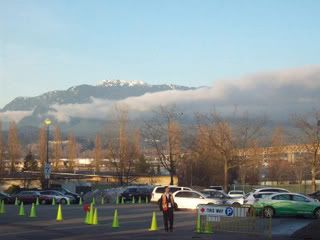 View from the back parking lot of the PNE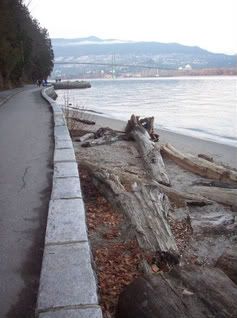 From the Seawall around Stanley Park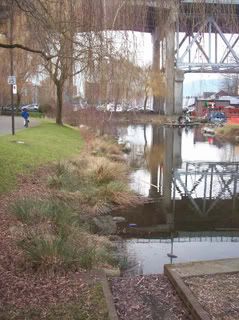 A shot from Granville Island, where I wish I had and endless supply of money and luggage room to bring home the goodies from the Public Market.
So that's Vancouver in a pretty tiny nutshell. Great city and great skating, to say the least. I can't wait to go back next year for the Games!
Also I'm hoping I won't go as long between posts next time, as I'm going to my first stop of Stars on Ice next weekend, so I'm sure I'll have plenty to say about that.