Time sure does fly. It's been since February since I last blog, but that doesn't mean I haven't been on any adventures since then. Canada, Chicago, Northern Michigan...all sorts of great places. Sometimes I'll think about blogging and where I want to go with this blog, besides just notes about travel and such. I'll think of something random and have a whole blog post written in my head, but it never quite makes it in here. I'd like to become a little more disciplined for the three people who actually do read this.
I'm a little less than a week away from my next road trip, which will take me to Toronto, Barrie, Lake Placid and the finale of all finales, Montréal. It's a skating-centric trip, which will be made worthwhile by the awesome people I will be travelling with. Christina and I will be driving from Toronto to Lake Placid, where we will meet up with Mel, who will join us on our drive to Montréal. I have had some incredible adventures with those two ladies, and I have no doubt this trip will be any different. I mean...taking a photo in an Olympic Bobsled in Lake Placid? How could I possibly pass that up?!
It was strange having such a quiet July, since it felt like the first half of my year was constantly busy. Not that I'm complaining, it was kind of nice to have some downtime. At the end of June, my crazy group of road trip girls (Michele, Jen, Christina and Mel) and I planned a surprise visit for Mel, who just moved into a lovely new condo in Chicago. She had only been expecting me, but got three extra visitors as well! We packed as much as we could into the two days that we had, which included a trip to Molly's Cupcakes in Lincoln Park, a visit to the new Whole Foods Palace, a wine and cheese party hosted by Mel, a bike trip along the waterfront and through Navy Pier and lots of other good stuff. If you have a sweet tooth and ever find yourself in Lincoln Park, Molly's Cupcakes is a must. Every time I go there I try something new, and I have to say I loved the Cookies and Cream that I had last time. With cookies and cream mousse filling! Yum. Here's some photographic evidence: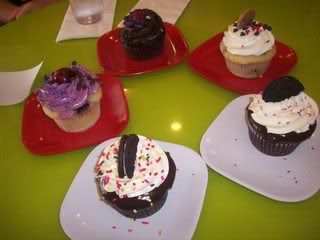 Here's a partial shot of the skyline that I took while crossing the river. I like the bridge in the corner, I think it's an interesting contrast (then again, what the hell do I know, haha):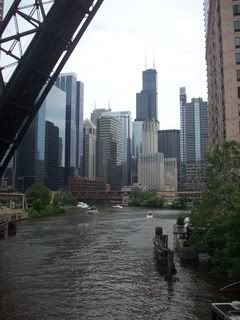 And here's the obligatory photo of us in 'The Bean':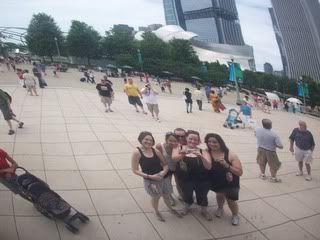 Of course there's been lots of good times in Michigan too! Jason, one of my closest friends from high school, was up for a week from Texas visiting his parents. My best friend, Amber, and I went on a mini road trip up north to spend the 4th of July with he and his family. Then a few weeks ago, another friend from high school (who also lives in Texas now) got married. It's so surreal to see your high school friends get married! But I'm really happy for Lizz, and hope she and her husband have a great life together!
Here's a picture of Amber, Jason and I, along with his sister, Jessica and her boyfriend, Kevin on Lake Charlevoix: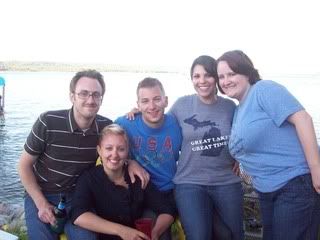 So I should be back sooner rather than later, with all of the pictures I'll be taking on my next Great Canadian Adventure and all.